My journey to R&R RV Campground started in 1987 when I bought a travel trailer and spent 40 days traveling across the country from Charlotte, N.C. to Phoenix, Ariz. I stayed in some nice campgrounds and met some interesting people along the way. The idea came to me then it would be great to own and operate an RV Campground.
After my cross-country adventure, back in Charlotte, reality set in that the price tag wasn't in my budget at the time.
I am a handyman by trade, so I continued serving and working for some great people in the Charlotte area over the years and took up backpacking in the North Carolina mountains as a hobby. Every time I would be out hiking my dream of owning an RV campground would resurface.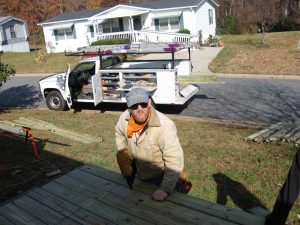 A few years later, I started searching on the computer for campgrounds that were for sale in the region. To my surprise there were several available! I continued to pray about making a lifestyle/career change and with blessed assurance I took the next step of faith put my home on the market. Fifteen months later the right buyer came along, and I moved into an apartment. God planted me there for the next 2.5 years while I continued my profession, saved money and traveled the southeast looking for the right campground to build my dream.
Several miles and seventeen campgrounds later, I saw the good, the bad and the ugly. During my search I came across one campground in Tennessee, it didn't have a shower house, or office or much of anything. Basically, it was a blank slate. But the first time I came down the mountain, into the valley I was excited at what I was seeing.
Asking God for discernment as I started walking around the property. Unfortunately, a hard rain settled into the valley that day and my walk-about the property was cut short.
I had plans to visit my Dad in Indiana, so I headed north, with that campground in the Tennessee valley on my mind. I knew then I should swing by on my way back to Charlotte to take a closer look at the blank slate that was capturing my imagination.
Fortunately, the weather was cooperative for my second look. A conversation with Leanne from the Pailo Market across the road encouraged me even more, so I took a drive through Dunlap, Tennessee and much to my delight I discovered small town USA was alive and well.
My mind was racing on the drive back to Charlotte and I took that time for a long conversation with God about my next step. After a good night's sleep, I called the Broker and made an offer on the beautiful place in the valley that stirred my soul.
Someone had beaten me to the punch by one day! Seriously! After all these months/years I missed my opportunity by 24 hours? Was God closing doors on me?
Their offer was contingent on selling their home in 90 days. Three months went by and the deal fell through.
The door wasn't closed after all!
Seller accepted my offer and just like that – I was moving to Tennessee and began living my dream in the beautiful Sequatchie Valley at the place I've named, R&R RV Campground.
"Commit to the LORD whatever you do, and your plans will succeed." Proverbs 16:3